Adidas Yeezy Slide "Azure"
Open media in modal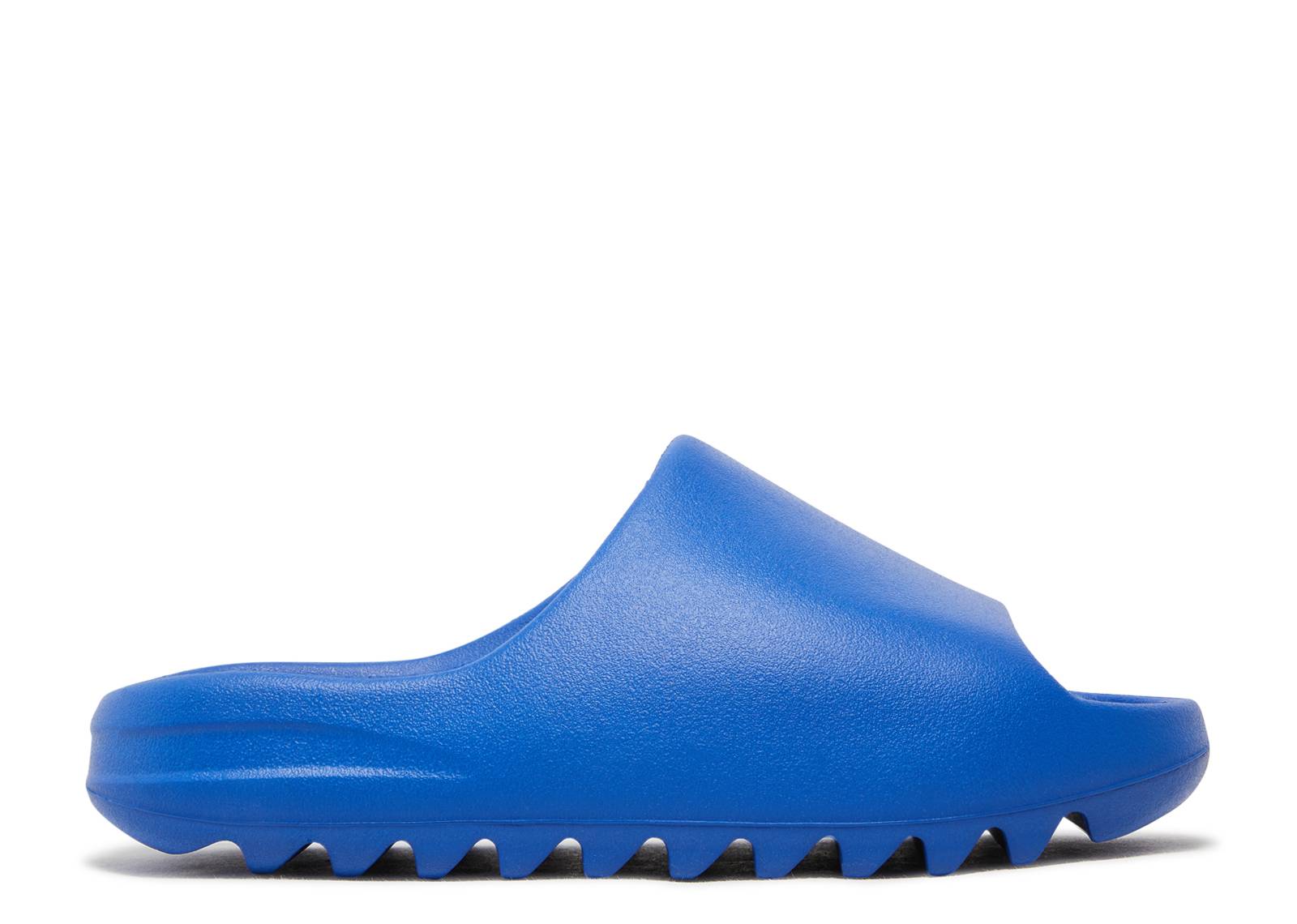 Adidas Yeezy Slide "Azure"
Condition: Deadstock, Never Worn (Unless Stated Otherwise)✔️
Style:
ID4133


Colorway:

Azure/Azure/Azure


Release Date:

2023-05-31

Introducing the Adidas Yeezy Slide "Azure" - a captivating fusion of style, comfort, and fearless self-expression. Created through the groundbreaking collaboration between adidas and Yeezy, these slides redefine casual footwear and elevate your everyday look to new heights. Prepare to embark on a journey where vibrant hues and effortless style intertwine.

The Yeezy Slide in Azure commands attention with its vibrant and captivating color. The Azure hue embodies the spirit of adventure, urging you to break free from the ordinary and embrace a world of bold possibilities. It's a celebration of individuality and a symbol of your unique sense of style.

Crafted with meticulous attention to detail, these slides offer more than meets the eye. The sleek EVA foam design not only presents a visually stunning silhouette but also provides unparalleled comfort. Whether you're hustling through a busy day or enjoying leisurely moments, the Yeezy Slide ensures that every step is cushioned with a touch of luxury.

But this slide is more than just footwear, it's a statement, a reflection of an ethos that embraces individuality and blurs the line between loungewear and streetwear. With the Yeezy Slide "Azure," you can effortlessly transition from a relaxed day at home to a stylish outing without compromising on comfort or fashion.

Elevate your footwear game and embrace the fusion of style and comfort with the Adidas Yeezy Slide "Azure." Step into a world where self-expression knows no bounds and make your mark on the fashion landscape. It's time to unleash your true colors and stride with confidence. Are you ready to redefine casual footwear? The Yeezy Slide in Azure awaits.
Our Authenticity Guarantee

Our 100% Authenticity Guarantee means you'll always receive the real deal, no matter what. Read more about our Authenticity Guaruntee HERE.
OUR SHIPPING POLICY

SHIPPING TIMES ⌛

[FASTEST]: 1-3 BUSINESS DAYS

[STANDARD]: 7-12 BUSINESS DAYS

ONLINE SHIPPING 📦

For [FASTEST] Orders: When you choose the Fastest option, you can trust that these pairs are already deemed authentic and will be shipped to you within 1-3 business days. Under normal circumstances, orders placed during normal business hours will be shipped within 24-48 hours. However, during times of high volume it may take up to 72 hours for your order to be shipped. With the Fastest option, you can rest assured that your order will be processed and shipped as quickly as possible!

For [STANDARD] Orders: When you place an order with us at ROR, we will acquire your desired item and verify its authenticity before shipping it out to you. This process typically takes between 7-12 business days. Once your item is verified as legitimate, it will be shipped directly to you from our warehouse. Trust in ROR to ensure that you receive only authentic, high-quality products.

IN-STORE PICKUP 🛍️

For [FASTEST] orders: If you choose to pick up your order in person, it will be available for pickup within 24 hours after ordering. Please make sure to bring your ID and the credit card used to purchase the item before coming to pick it up. This will ensure a smooth and efficient pickup process.

For [STANDARD] Orders: After you make a purchase for pickup on our webstore, your item will be sent to us for authentication. Once it is verified as authentic, it will be available for pickup in-store. You will receive an email notification letting you know when it is ready for pickup. Please note that this process may take up to 12 business days. Trust in us to ensure that you receive only authentic, high-quality products.

Read more about our Shipping Process HERE.