Nike Diamond Supply Co. SB Dunk High "Aqua Blue"
Open media in modal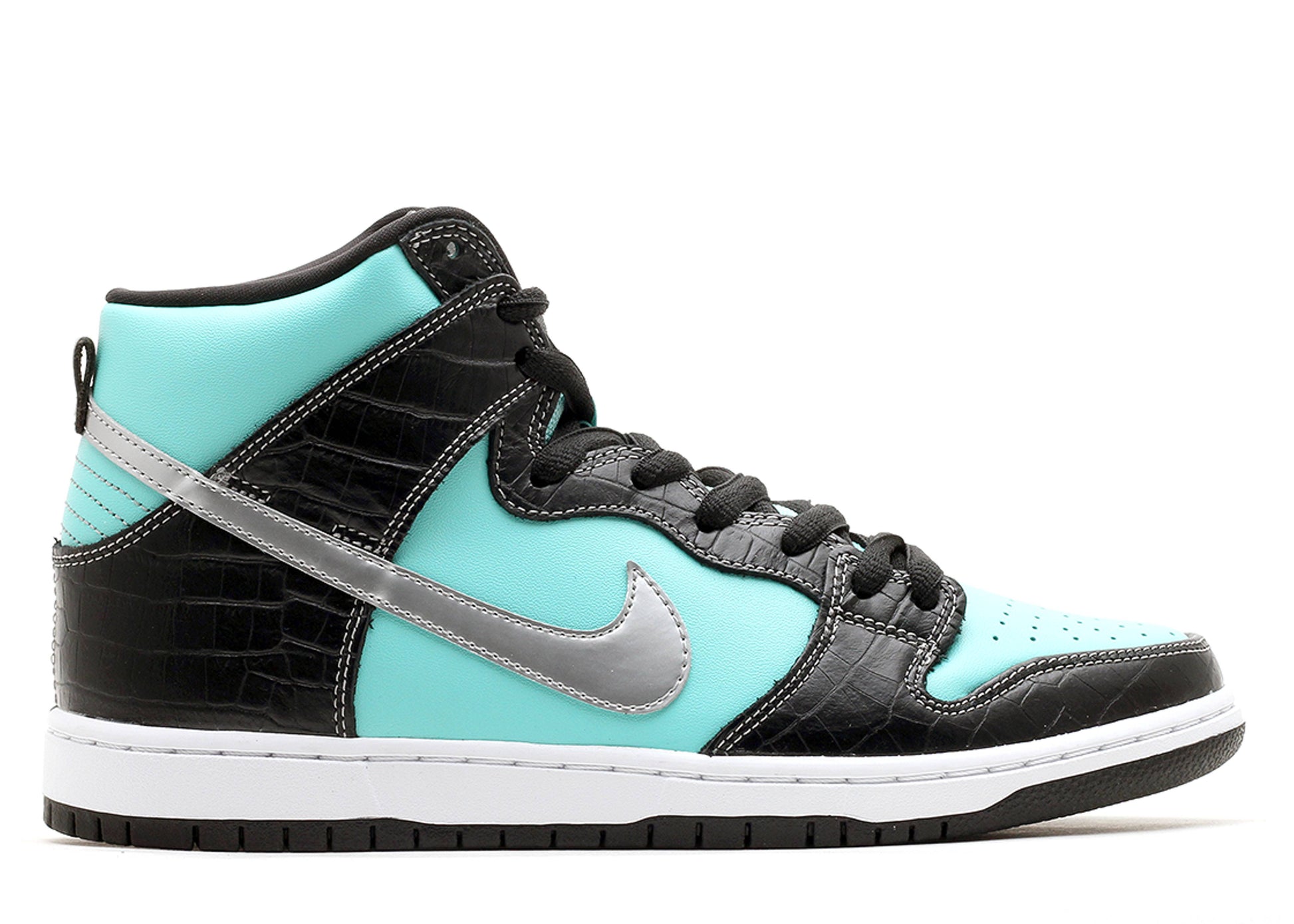 Nike Diamond Supply Co. SB Dunk High "Aqua Blue"
Condition: Deadstock, Never Worn (Unless Stated Otherwise)✔️
Style:
653599-400


Colorway:

Aqua/Chrome-Black


Release Date:

2014-02-08

Introducing the Nike Diamond Supply Co. SB Dunk High "Aqua Blue" - a true masterpiece that combines style, craftsmanship, and a touch of exclusivity. Get ready to embark on a journey of unparalleled sneaker satisfaction as you delve into the world of this historical high-top sneaker.

Featuring an exquisite aqua leather top, this sneaker is a visual feast for the eyes. The vibrant and refreshing shade of blue evokes a sense of serenity and individuality, making you stand out from the crowd with every step you take. That's not all - the addition of the black crocks plastic skin cover adds a touch of boldness and edginess to the design, elevating your style to new heights.

Embracing the essence of luxury, the metallic Chrome Swoosh shines brightly on the side, capturing attention and reflecting your refined taste. It's a symbol of exclusivity, a nod to the collaboration between Nike and the esteemed Diamond Supply Co., ensuring that you possess a truly one-of-a-kind piece of sneaker art.

Crafted with utmost care and attention to detail, this sneaker features a durable rubber sole that offers both comfort and traction, allowing you to conquer any terrain with confidence. The white midsole provides a clean and crisp contrast, while the black outsole adds a touch of sophistication and versatility.

Made from premium materials including cotton, rubber, and leather, this sneaker offers a luxurious feel and exceptional durability. The black lining enhances the overall aesthetics, while the iconic Chrome Swoosh proudly adorns the side, a symbol of authenticity and style.

The Nike Diamond Supply Co. SB Dunk High "Aqua Blue" pays homage to the revered 2005 Nike SB Diamond Supply Dunk Low, boasting the same captivating colorway. It's a celebration of the past, present, and future of sneaker culture, allowing you to connect with a rich legacy while staying on the cutting edge of style.

Indulge in the allure of this remarkable sneaker, as it embodies the perfect blend of artistry, innovation, and self-expression. Elevate your sneaker collection and make a bold statement wherever you go with the Nike Diamond Supply Co. SB Dunk High "Aqua Blue". Step into a world of limitless possibilities and embrace your individuality with every stride.

Our Authenticity Guarantee

Our 100% Authenticity Guarantee means you'll always receive the real deal, no matter what. Read more about our Authenticity Guaruntee HERE.
OUR SHIPPING POLICY

SHIPPING TIMES ⌛

[FASTEST]: 1-3 BUSINESS DAYS

[STANDARD]: 7-12 BUSINESS DAYS

ONLINE SHIPPING 📦

For [FASTEST] Orders: When you choose the Fastest option, you can trust that these pairs are already deemed authentic and will be shipped to you within 1-3 business days. Under normal circumstances, orders placed during normal business hours will be shipped within 24-48 hours. However, during times of high volume it may take up to 72 hours for your order to be shipped. With the Fastest option, you can rest assured that your order will be processed and shipped as quickly as possible!

For [STANDARD] Orders: When you place an order with us at ROR, we will acquire your desired item and verify its authenticity before shipping it out to you. This process typically takes between 7-12 business days. Once your item is verified as legitimate, it will be shipped directly to you from our warehouse. Trust in ROR to ensure that you receive only authentic, high-quality products.

IN-STORE PICKUP 🛍️

For [FASTEST] orders: If you choose to pick up your order in person, it will be available for pickup within 24 hours after ordering. Please make sure to bring your ID and the credit card used to purchase the item before coming to pick it up. This will ensure a smooth and efficient pickup process.

For [STANDARD] Orders: After you make a purchase for pickup on our webstore, your item will be sent to us for authentication. Once it is verified as authentic, it will be available for pickup in-store. You will receive an email notification letting you know when it is ready for pickup. Please note that this process may take up to 12 business days. Trust in us to ensure that you receive only authentic, high-quality products.

Read more about our Shipping Process HERE.